Proprietary Planar Magnetic Technology
Loud and clear life-like natural sounding
Affordble best buy in high end heaphone market
Emphasis on comfort, reduced weight
Unique 7-layer diaphragm, double-sided spiraling coils, FEM-optimized magnet system
---
Oppo PM-2 Planar Magnetic Headphones
LOUD and CLEAR yet comfortably light.
Unique 7-layer diaphragm, double-sided spiraling coils, FEM-optimized magnet system, high sensitivity
Similar to PM-1, PM-2 is also characterized by its natural, dynamic, and engaging sound quality with an emphasis on comfort and reduced weight
PM-2 maintains very similar performance to the PM-1 while reducing costs to customer.
PM-2's lower price is achieved without sacrificing the acoustic performance.
PM-2 is replaced with synthetic leather vs PM-1 luxurious hand-picked lambskin for headband and ear cushions. Both offers similar comfort and durability.
PM-2 uses the same driver as the PM-1, and the same technological breakthroughs are present in the PM-2: the use of a unique 7-layer diaphragm, double-sided spiraling coils, and an FEM-optimized magnet system.
PM-2 combines high sensitivity with low weight.
Its circumaural, open back design provides the best in sound quality and comfort, and the overall rugged construction ensures that the headphones can withstand mechanical and environmental stress.
A listening experience that is both free of fatigue and capable of communicating every nuance of your favorite music.
It's the planar magnetic driver that sets PM-2 apart from the majority of headphones on the market.
The diaphragm is driven in a symmetric pull-push manner, and the magnetic system and conductor patterns have been optimized for maximum sensitivity and consistency.
Thus it's generating very stable and linear piston-like vibrations, ensuring phase coherence and high resolution performance with minimal distortion.
Great efficiency double-sided diaphragm used.
Our flat conductor pattern eliminates inductance-related intermodulation distortion, common with dynamic headphones, and the OPPO PM-2's purely resistive impedance means that sound quality is unaffected by a headphone amplifier's output impedance.
Premium accessories of :
-Latex ear cushions
-Synthetic leather headband and perforated ear pads
-OCC (Ohno Continuous Casting) Cable
-Selvedge denim carrying case
-Mobile cable 3.5mm terminated
*Optional Accessories of Headphone Stand available too.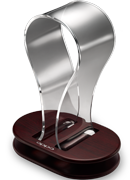 Award:
Reviewed by:
Price:  

RM2650