Multi-Awards, Highly Reviewed Headphone
EISA award-winning headphones
Proprietary Planar Magnetic Technology
Life-like, natural sound quality
High sensitivitity & scalability
Plush padding & reduced weight for exceptional comfort
---
Oppo PM-1 Planar Magnetic Headphones
Simply larger than life sound… to hear the smallest detail…a different way of thinking about planar magnetic technology.
A headphone of – Stability, Consistency, Reliability, Phase Coherence, High Sensitivity, Comfort, Luxury Materials, Natural, Dynamic, Engaging Sound and simply Uniquely Better.
PM-1 is characterized by its natural, dynamic, and engaging sound quality with an emphasis on comfort and reduced weight.
PM-1 is the result of many years of research by a team of passionate audio and acoustics engineers, chemical and materials scientists, and audiophiles.
Technological breakthroughs of the unique 7-layer diaphragm, double-sided spiraling coils, and an FEM-optimized magnet system.
The double-sided diaphragm generates very stable and linear piston-like vibrations, ensuring phase coherence, high resolution performance with minimal distortion and greater efficiency.
FEM-Optimized Magnet System with very high energy Neodymium magnets to maximize sensitivity and consistency of the applied force over the driver area.
The OPPO PM-1 combines high sensitivity with low weight, to be used freely with portable devices without requiring additional amplification.
The circumaural, open back design offers the best in sound quality and comfort.
The rugged construction ensures that the headphones can withstand mechanical and environmental stress.
A listening experience that is both free of fatigue and capable of communicating every nuance of your favorite music
Luxury Materials and Premium accessories of :
-Latex ear cushions
-Lambskin headband and perforated lambskin ear pads
-Wooden package
-OCC (Ohno Continuous Casting) Cable
-Selvedge denim carrying case
-Velour earpads
-Mobile cable 3.5mm terminated
*Optional Accessories of Headphone Stand available too.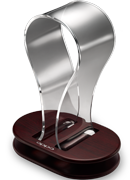 # Multi-award winning headphone:
# Highly reviewed headphone model:
SRP:  

RM4599